The same costume designer who clothed the "New Moon" cast, Tish Monaghan, returned to duty for the third movie in the saga, "Eclipse." Lucky for us — that meant she was just a phone call away. Yes, it's true after the first trailer for "Eclipse" hit the Internet, we were plagued by many probing questions related to the fashions of the main characters. Besides, uh, those wigs (which we got Kristen Stewart herself to talk about), there is one other thing that many of you are dying to know: is that an engagement ring on Bella's finger in the pics from the meadow?

Don't worry we got to the bottom of this "rocky" mystery and, in the process, found out a bunch of other fun facts from Tish about the wardrobe that you've seen so far in the trailer. So step back inside the "Twilight" closet...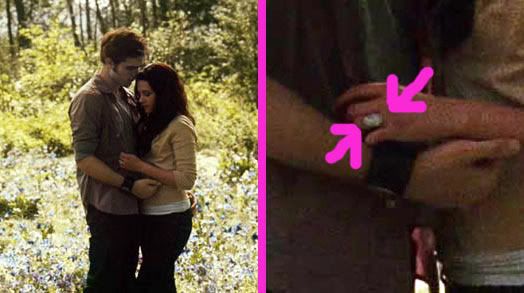 IS THAT AN ENGAGEMENT RING?

YES! "This is an engagement ring on Bella's finger!" Tish confirmed. "This is something that was made for her by the props department." In other words: she doesn't have a whole lotta info to share on it. So, until we are able to investigate further, we should point out that the ring (at least what we can see of it from our extreme zoom-in) looks like he could be quite similar to the domed oval one authorized by author Stephenie Meyer after the "Eclipse" book came out, which is for sale by Infinite Jewelry Co. Check out a 2009 article from the Salt Lake Tribune for more information on the story behind that ring.


If you're wondering what Kristen and Robert Pattinson are wearing in the above pic, Tish says Kristen is in a cashmere sweater from J Crew and J Brand Jeans. Rob is "probably wearing" a Banana Republic shirt.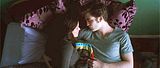 IS IT JUST US OR IS EDWARD WAY MORE CASUALLY DRESSED THAN HE WAS IN "NEW MOON"?

"Rob only wore the suit in the last film because of a continuity theme," the costume designer explained. "He wore it for Bella's party, and then he never changed. In 'Eclipse,' he is back at school, and dressing generally, more casual and more relaxed."

As seen above from the gray tee shirt (most like from Banana Republic or GAP), the major color palate for Edward and his family, however, has not been changed: "The whole 'cool' color theme is being continued with 'Eclipse' for the Cullen Clan."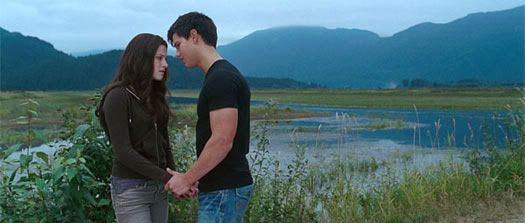 HOW ABOUT JACOB? DO HIS SHIRTS FINALLY FIT HIM CORRECTLY?

Back when we interviewed Tish about the threads from "New Moon," she said there was a distinct reason Taylor Lauther always looked to be almost busting out of his shirts with his biceps — "We tailored his t-shirts so they showed off his muscles," she said at the time.

So now that Jacob "understands his body," his tops (above he's in a GAP shirt and Levi jeans) must be a size up right? Nope! Because "only two weeks has passed in time between 'New Moon' and 'Eclipse'" — when Bella went to Italy it was the middle of May, now it's June — "He wore the same tee shirts," Tish said.

In the photo above, Kristen is wearing Adriano Goldschmied jeans and what Tish believes to be a Billabong hoodie.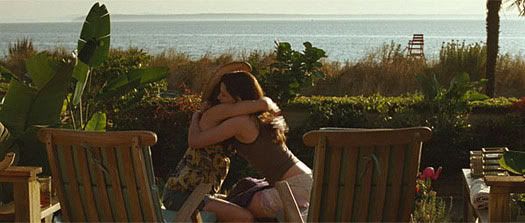 HOLY TANK TOP! IS THAT REALLY BELLA SHOWING SOME SKIN?

When Bella ventures to Florida to visit her mom, Renee (Sarah Clarke) and her boyfriend, it was important for the costume designer to be able to designate warm weather. "We really wanted to show that it was a different climate, so that was the reason [we put Kristen is a tank top]," Tish reported. "Script called for bathing suits, but we opted for more of a coverup, for both her and her on screen mom."


source