Ever since I read Eclipse, and then a few months later Breaking Dawn, I have been inspired by the descriptions of Bella's wedding dress. Bellow are my design sketches and photos of the dress I made.






"And for one second, I could. I saw myself in a long skirt and a high-necked lace blouse with my hair piled up on my head. I saw Edward looking dashing in a suit with a bouquet of wildflowers in his hand, sitting beside me on a porch swing. I shook my head and swallowed. I was having my Anne of Green Gables flashbacks."
-Bella Swan, Eclipse, page 277

Bella's description of the dress reminds her of Anne of Green Gables. So of course I googled those images.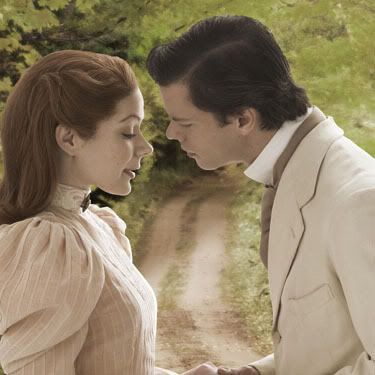 found here

"What do you think?" she demanded.
It was my Anne of Green gables vision all over again....
"Nineteen-eighteen?" I guessed.
"More or less,"she said, nodding. "Some of it is my design, the train, the veil..."
She touched the white satin as she spoke. "The lace is vintage. Do you like it?"
"It's beautiful. It's just right for him."
-Alice Cullen and Bella Swan, Eclipse, page 614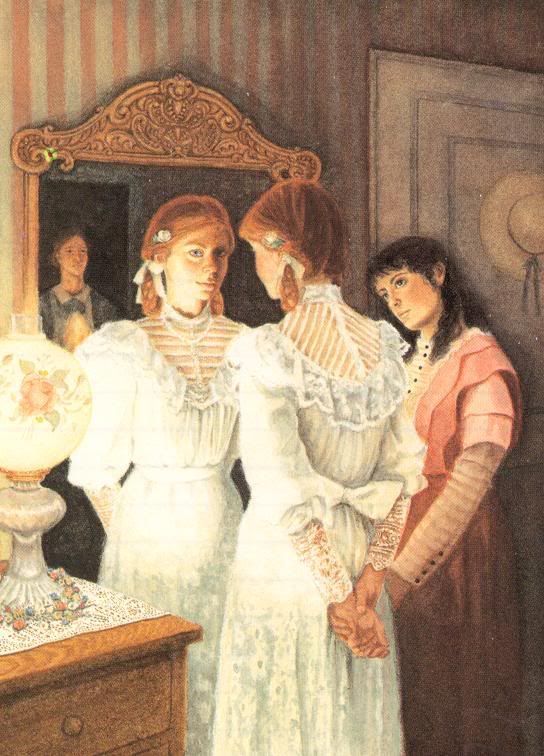 found here

"You can start braiding. I want it intricate. The veil goes here, underneath."
-Alice Cullen, Breaking Dawn, page 43

"My knees shook so badly as she fastened the long line of pearl buttons up my back that the satin quivered in little wavelets down to the floor."
-Bella Swan, Breaking Dawn, page 43

"Her skin was cream and roses, her eyes were huge with excitement and framed with thick lashes. The narrow sheath of the shimmering white dress flared out subtly at the train almost like an inverted calla lily, but so skillfully that her body looked elegant and graceful..."
-Bella Cullen, Breaking Dawn, page 57

With those descriptions and the two images in mind, I stared sketching.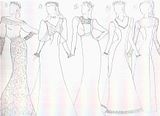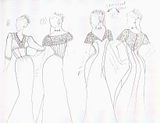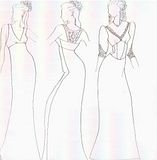 I eliminated the veil and added flowers instead, but followed the rest pretty closely. The final sketch: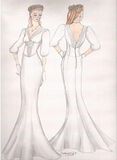 Dress completed on January 22, 2010.
Front views:


Back views: