Medium: Film/Book
Fandom: Twilight
Subject: Edward & Bella
Title: My Body is a Cage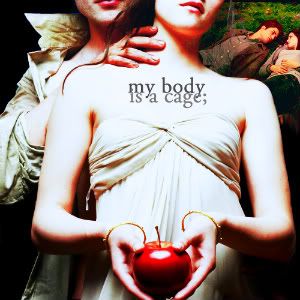 "Oh, your gaze is dangerous
And you fill your space so sweet
If I let you get too close
You'll set your spell on me"
- Fiona Apple

01; Arcade Fire - My Body Is A Cage
"My body is a cage
We take what we're given
Just because you've forgotten
That don't mean you're forgiven"
02; A Fine Frenzy - You Picked Me
"Like an apple on a tree
Hiding out behind the leaves
I was difficult to reach
But you picked me"
03; Muse - Supermassive Black Hole
"Oh baby don't you know I suffer?
Oh baby can't you hear me moan?"
04; Goo Goo Dolls - Iris
"And I'd give up forever to touch you
Cause I know that you feel me somehow
You're the closest to heaven that I'll ever be
And I don't want to go home right now

And all I can taste is this moment
And all I can breathe is your life
Cause sooner or later it's over
I just don't want to miss you tonight "
05; Jace Everett - Bad Things
"When you came in the air went out. 

And every shadow filled up with doubt. 

I don't know who you think you are,

But before the night is through,

I wanna do bad things with you. 


I'm the kind to sit up in his room. 

Heart sick an' eyes filled up with blue.

I don't know what you've done to me,

But I know this much is true:

I wanna do bad things with you. "
06; One Republic - Sleep
"Talk to myself again, all alone, on my own
Walk by the scene again, just to see what people see
Caught in your stubborn hold, and I'm so far from home

So turn the lights on, turn the lights on
Turn the lights on for me
Keep the lights on, keep the lights on
Keep thelights on for me

Don't go to sleep"
07; Aqualung - Brighter Than Sunshine
"Tied up in ancient history
I didnt believe in destiny
I look up you're standing next to me
What a feeling

Love will remain a mystery
But give me your hand and you will see
Your heart is keeping time with me "
08; Snow Patrol - Run
"I'll sing it one last time for you
Then we really have to go
You've been the only thing that's right
In all I've done

And I can barely look at you
But every single time I do
I know we'll make it anywhere
Away from here

Light up, light up
As if you have a choice
Even if you cannot hear my voice
I'll be right beside you dear"
09; Paramore - My Heart
"I am nothing now and it's been so long
Since I've heard the sound, the sound of my only hope

This time I will be listening.

Sing us a song and we'll sing it back to you
We could sing our own but what would it be without you?

This heart, it beats, beats for only you"
10; Fiona Apple - Shadow Boxer
"Oh, you creep up like the clouds
And you set my soul at ease
Then you let your love abound
And you bring me to my knees

Oh, it's evil babe
The way you let your grace enrapture me
When well you know I'd be insane
To ever let that dirty game recapture me"
Edward & Bella - Complete Fanmx. Zip