I was about to sign into myspace when this caught my eye on the homepage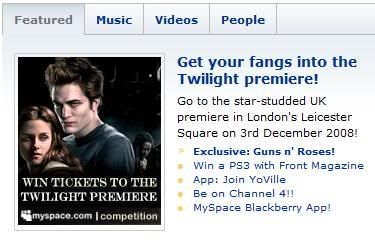 i don't know if this has already been posted, so mods feel free to delete if it has.

WIN TICKETS TO THE TWILIGHT PREMIERE! The eagerly anticipated teen vampire phenomenon which has thoroughly ravaged the US is about to take on the UK... And we've got our fangs firmly clamped on a pair of tickets for one of you lot and a friend to go to the star-studded UK premiere in London's Leicester Square on 3rd December 2008. The lucky winners will get to see the film and rub shoulders with the cast before it hits UK screens on 19th December. For those of you not lucky enough to win the tickets, fear not – Twilight fans are being encouraged to come down to check out the red carpet action, and the best dressed Twilighters and vampires will win on the spot Twilight swag! For your chance to win the tickets to the premiere, message us to tell us the name of the actor who plays the gorgeous lead vampire Edward, along with your name and contact number. Get your entry in by MONDAY 1ST DECEMBER when the winner will be chosen. *Travel & accommodation is not included.*Winners must be able to attend the premiere on the evening of 3rd December 2008 and may need to be available to collect their tickets on the same day.*Winners must be 18 yrs and over or accompanied by an adult.*No alternative prize will be offered if the winner is unavailable to attend.*Winners will be notified by email or phone.