Rob has been featured as one of the 'Breakout Stars' of 2008. Sorry for the cruddy scans. My scanner isn't working so I had to take pictures of them instead.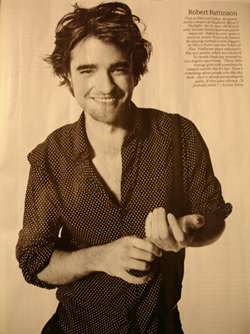 Robert Pattinson
Cast as Edward Cullen, the gentle-manly vampire of Stephenie Meyer's 'Twilight,' the 22-year-old British actor became instant bedroom-poster material

–

before he even spoke a word on screen. Previously known for playing earnest Cedric Diggory in 'Harry Potter and the Goblet of Fire,' Pattison seems unfazed by this new mania, which has involved Twihards lingering around his Los Angeles apartment. "These little teenage girls will sometimes be camped outside, but it's fine. There's something about people who like this book

–

they're always extraordinarily polite. If they were old men, I'd probably move."
–
Karen Valby
Edit:
This came from the Nov. 21st issue with Robert Downey Jr. on the cover.