Ok, so I'm doing a graphic design project, and I'm basing it on twilight. It's basically about how the books entice us to read more, and how we fall in love with the characters and the romance of it all. It's like a fold out double spread thing, and im stuck on the inside (cos its like 4 a4 pages to fill up and it has to relate to me (why do they have to be so difficult!).

Anyway, so I was wondering if you all could help me. I just need like a few lines (when i say lines i mean like 2-3 short sentences) explaining
why you are drawn to the book?
what your favoriteelement of the book is?
or why you like the books.
also a name underneath would be appreciated. To make it a bit clearer, i want to know what twilight means to you, its not info for me to plagerise, as i want to surround the page with words that draw describe how we are drawn into twilight, but also people's personal opinions on why they like the book.
Example: The ambiguity, the thrill, the electricity, there's nothing that doesn't draw me to Edward Cullen. Reading the books is like a whirlwind adventure that never ends.Previews of what i have so far are under the cut, any ideas on how to improve anything would be really appreciated.

Thankyou.

front(fold out bit)


folds out into:


(this design is a template, more text needs to be added).

EDIT: THE PROJECT IS NOT COMPLETE:
heres the final things:

front: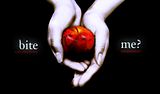 inside:



thanks for everyone who helped!