So here's my second Edward/Bella fanmix, third fanmix in total though. I decided to do one for New Moon cause I found some good songs to add to it while listening to them on Real Player. There's a couple of Westlife tracks in this one as well, my first one had a couple Westlife tracks as well, but I love this band so much. And these songs If I Let You Go and Miss You seem to go so well. I was going to add a couple more, but I didn't want to overload you with Westlife lmao. Anyway hope you enjoy. Let me know what you think.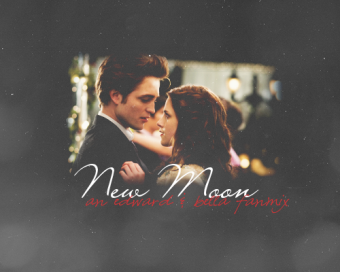 DOWNLOAD FULL FANMIX HERE

01. Starts With Goodbye - Carrie Underwood

I guess it's gonna have to hurt,
I guess I'm gonna have to cry,
And let go of some things I've loved,
To get to the other side,
I guess it's gonna break me down,
Like falling when you try to fly,
It's sad, but sometimes moving on with the rest of your life,
Starts with goodbye.DOWNLOAD TRACK HERE

02. No Air - Jordin Sparks ft Chris Brown

But how do you expect me
To live alone with just me
'Cause my world revolves around you
It's so hard for me to breatheDOWNLOAD TRACK HERE

03. When Your Gone - Avril Lavigne

When you're gone,
The pieces of my heart are missing you!
When you're gone,
The face I came to know is missing too!
When you're gone,
All the words I need to hear to always get me through the day...
And make it OK...
I miss youDOWNLOAD TRACK HERE

04. Miss You - Westlife

I don't wanna feel,
the way that I do,
I just wanna be,
right here with you,
I don't wanna see,
see us apart,
I just wanna say it
straight from my heart,
I miss you.....DOWNLOAD TRACK HERE

05. Bring You Home - Ronan Keating

When you're lost and there's no where to go
And your heart bears a heavy load
Don't give up 'cos you are not alone
'Cos I am always here to bring you homeDOWNLOAD TRACK HERE

06. Your Heart Is An Empty Room - Death Cab For Cutie

Burn it down till the embers smoke on the ground
And start new when your heart is an empty room
With walls of the deepest blueDOWNLOAD TRACK HERE

07. Comotose - Skillet

I don't wanna live
I don't wanna breathe
'less I feel You next to meDOWNLOAD TRACK HERE

08. Somewhere - Within Temptation

I'll find you somewhere
I'll keep on trying until my dying day
I just need to know whatever has happened,
The truth will free my soul

DOWNLOAD TRACK HERE

09. Close Your Eyes - Christopher Beck

INSTRUMENTAL

DOWNLOAD TRACK HERE

10. All Over Again - Ronan Keating

What I'm trying to say,
Is that you are so beautiful
Let me say it, all over again.

DOWNLOAD TRACK HERE

11. Memories - Within Temptation

I'll come into your world,
See through your eyes.
I'll try to understand,
Before we lose what we have

.

DOWNLOAD TRACK HERE

12. If I Let You Go - Westlife

But if I let you go I will never know
What my life would be holding you close to me
Will I ever see you smiling back at me?
How will I know
If I let you go?

DOWNLOAD TRACK HERE

*13. Time To Say Goodbye - Katherine Jenkins

Time to say goodbye

DOWNLOAD TRACK HERE

14. It's The Fear - Within Temptation

I fear who I am becoming,
I feel that I am losing the struggle within
I can no longer restrain it,
My strength, it is fading
I have to give in

DOWNLOAD TRACK HERE

15. Lullaby - Emmy Rossum

Close your eyes
Don't you cry
Let the sorrow within you subside
Don't despair
Have no fear
Give your way to me when you hear
This lullaby [Lullaby]

DOWNLOAD TRACK HERE

*I haven't posted all the lyrics for this song because that's the only part in English, i'm not sure what langauge it's in, when i find out i'll edit this post.

Also I apologise for the length of the Emmy Rossum song, i'm trying to see if there's a longer version for now you'll have to use that one.



And Guy Fawks night should be renamed Guy Fawks week, cause I can gaurantee there'll be fireworks going off for the next week, lmao, at least where I live anyway haha. And I've not got that 'Remember remember the fifth of November' on my head now.

p.s I'm hoping the links will work, they should do, but if any of them don't give me a shout.