Here is the promotions roundup post with all the new communities and websites submitted to us this week. I'm sorry I'm a day late (again), but due to my getting sick, my grieving (I loved BD, but I'm sad that it's over), and most importantly the fact that we didn't resume accepting/rejecting posts until today, well, things are a little out of order. Anyway, if you'd like something promoted for next week, please leave a comment here. :)



Livejournal

bd_epicwin -- A community for fans who enjoyed reading Breaking Dawn.

elitetwilight -- The most dazzling icons on livejournal.

fixingdawn -- AU Breaking Dawn fanfiction. For those who thought their story should go a bit differently.

garrett_kate -- A Garrett/Kate shipper's community.

twilightxchange -- A picture sharing community where people post spams of their favorite pictures of the Twilight Movie or of its cast.

twilightxstills -- Twilight icontest community.

twilight_macros -- We lol because we love.

twi_gossipgirl -- A journal where anyone can send in tips about Twilight drama to be featured in post.

Websites
* Twilight Quotes -- The largest archive of quotes from the Twilight saga.

Blogs
* Robert Pattinson Life -- All Robert Pattinson.

MySpace
* Team Pattinson -- Daily updates, blogs, music - all Rob!
* The Twilight Myspace RPG -- I've started a new roleplaying community on myspace and we're in need of a few more members. Visit the link for rules or e-mail me at thetwilightrpg@hotmail.com. Thanks. :)


1.
twilightxchange


2.
twilightxstills


If you love making icons and love Twilight, Join the community to enter contests! First challenge is up! :]

3.
twilight_macros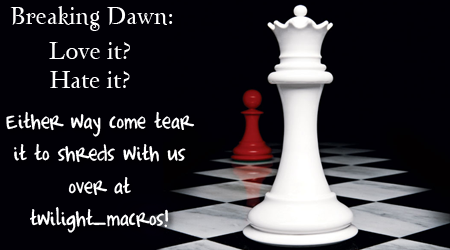 We love Twilight, but admit there's a lot of lol potential in those pages. Join us to make and share, or simply just enjoy the jokes that can be made from the series.

4.
twi_gossipgirl


You've all complained about how crazy the Twilight fandom is - admit it, from time to time, you wonder why you're even still a part of it. Well, I'll tell you why. It's because you love the drama, the antics, the "wank." You laugh at it. You revel in it. And you can't let it go.

Ever wish that you could view it - it being the drama, the antics, the "wank" - easily, instead of being entrenched in it just for the lulz? Ever thought being pulled down into the crazy wasn't quite worth the amusement? Or, best of all - ever witnessed something that was so utterly ridiculous that you thought the world had to see it and shake their heads with you?

Send any tips to twi.gossipgirl@gmail.com, and the drama becomes scandal. Friend this journal to keep up on it all.

And who am I? That's a secret I'll never tell.

xoxo,
Gossip Girl

5. Robert Pattinson Life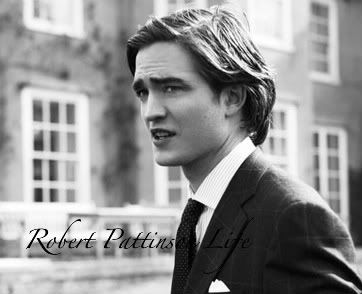 *updated daily*



ETA: If you need to talk to me for whatever reason, send me a message or leave a comment to this post. I'm sorry, but due to the fact that the BD discussion posts have flooded my inbox, I most likely won't notice any comments in there that were meant for me.