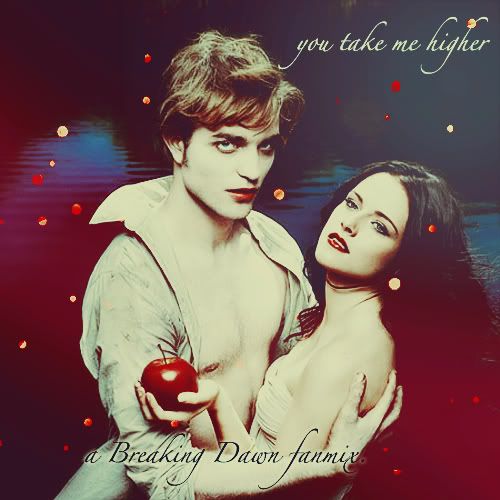 Download here.
1) Over the Moon- Liv Kristine
Just a happy song. I mean, it's such a happy and uplifting book, ya know? :P
Crossing boundaries
Between my old and new life
Search the open field
For a flower of my taste

And look what I found; the road to heaven

I'm over the moon
Thought featherly-light sky I fly
I'm over the moon
Since I found you

2) In Motion #1- The Gathering
kill me with your thoughts
use your mind
hand me over to this world
into death...

make me cry in vain
leave one tear
touch my face with your sigh
leave me against the stream
one hundred worlds will see me
passing by...

3) Along Came You (A Song for Emily)- Gloria Estefan
Such a good mother/daughter song :).
You were sent to me
By angels up above, I'm certain
I thought I'd show you what love can be
But what did I know

Until along came you
To teach me about love

4) I'm Lost Without You- Blink-182
I swear that I can go on forever again
Please let me know that my one bad day will end
I will go down as your lover, your friend
Give me your lips and with one kiss we begin

5) Ghost Love Score- Nightwish
Relive the old sin of Adam and Eve
Of you and me
Forgive the adoring beast

Redeem me into childhood
Show me myself without the shell
Like the advent of May
I`ll be there when you say
Time to never hold our love

- My fall will be for you -
My fall will be for you
My love will be in you
You were the one to cut me
So I'll bleed forever

6) Entwined- Lacuna Coil
I wonder how can I go on and on
when you want to bury my passion
You are the shell around
I cannot escape
and I swallow my pride

Entwined together now
It's time to pass it over
(and you take me over, over again)
Entwined together now

7) The Child is Gone- Fiona Apple
So my darling, give me your absence tonight
Take all of your sympathy and leave it outside
'Cause there's no kind of loving that can make this alright
I'm trying to find a place I belong

And I suddenly feel like a different person
From the roots of my soul come a gentle coercion
And I ran my hand o'er a strange inversion
As the darkness turns into the dawn
The child is gone
The child is gone

8) You Take me Higher- Liv Kristine
Another happy song :).
You take me higher
Higher than I have ever been
It's like the sunshine
I'm loaded with your energy

9) Bring the Night On- Eve 6
Sex....
I'm trying to let you know that your not just another
When you're under the covers I'm under your thumb
And your the finest of specimens
Leaving me breathless
Reeling and restless, putting me to the test

Turn the light off Leave me where i lay
Bring the night on
Not another day

10) All I Need- Within Temptation
Can you still see the heart of me?
All my agony fades away
when you hold me in your embrace

Don't tear me down for all I need
Make my heart a better place
Give me something I can believe
Don't tear me down
You've opened the door now, don't let it close

11) Save Me From Myself- Sirenia
Save me now
before my world falls
Save me now
from myself
before the dawn

Save me now
I'm at the reaper's door
Can't you see
you hold the key
to set my mind free...

12) Morphia's Waltz- The Gathering
Mother/Daughter song :).
Rest your head
in my lap, honey
The day I wept
is when I had you my love

Sleep, child sleep
rest your eyes
until the sun comes up
and you'll awake
to light everyones day
up again

13) Cadence of her Last Breath- Nightwish
Seawinds brought her to me
A butterfly, mere one-day miracle of life
And all the poetry in the world
Finally makes sense to me

Save one death for me

14) My Last Breath- Evanescence
Closing your eyes to disappear
You pray your dreams will leave you here
But still you wake and know the truth
No one's there

Say goodnight
Don't be afraid
calling me, holding me as you fade to black

15) My Girl- Agua de Annique
Kind of a Jacob/Renesmee song.
My hands are tied
I'm on your side
You are my girl
I hold your hand and understand
You are my girl, my girl

16) Into Your Light- Leaves Eyes
I've taken this step
And we're intimate now and I am
I am joining your world
A formation of love and you shine
Through me


17) Glades of Summer- Sirenia
When the darkness seems to fall
Then I can hear you call
Your voice is weaker now than before
And in the summer rain
You gave in to your pain
And life will never be the same again

Download here.