My second fanmix, but first Edward/Bella fanmix. My first fanmix I made was a couple months ago and was a Flack/Stella one for CSI NY. This one is probably still not very good, but I like the songs I've picked, and I know that there are couple that have been on other fanmixes, and I'm not trying to copy at all, but I really like those songs and to me they are perfect Edward/Bella songs. Anyway this is a general fanmix, though a couple might suit one book in particular. And since making this one I've heard other songs that I thought would be perfect, so I've decided to make another fanmix, rather then edit this one.

I'm going to shut up now and let you enjoy it, let me know what you think, and any problems let me know.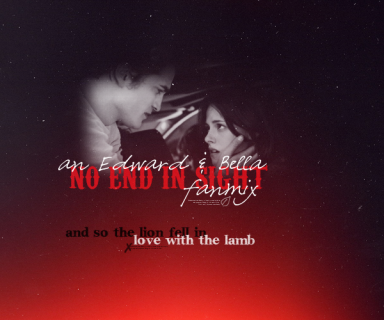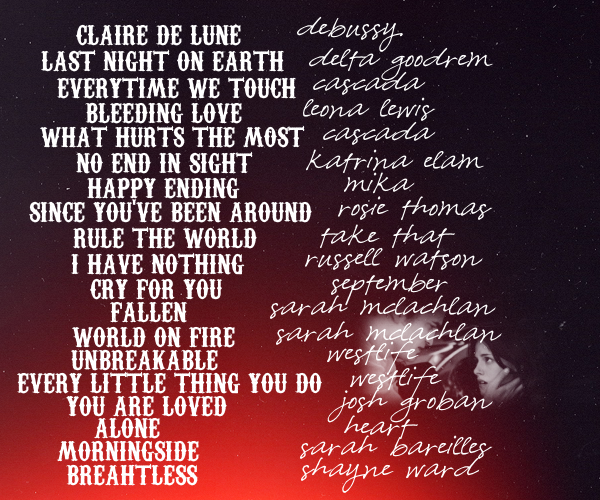 *NB: After listening to Happy Ending by Mika it seemed like a New Moon song, so that's for New Moon really, I think it fits. But listen to it, tell me what you think.
Claire De Lune - Debussy
INSTRUMENTAL
Last Night On Earth - Delta Goodrem
If tomorrow never comes I want you to know right now that I I'm gonna love you until the day I die And if tomorrow falls asleep Can you hold me first I'm gonna love you like It's the last night on earth
Everytime We Touch - Cascada
The good and the bad times, We've been through them all. You make me rise, When I fall!
Bleeding Love - Leona Lewis
But nothing's greater Than the rush that comes with your embrace And in this world of loneliness I see your face Yet everyone around me Thinks that I'm going crazy, maybe, maybe
What Hurts The Most - Cascada
It's hard to deal with the pain of losing you everywhere I go But i'm doin it It's hard to force that smile when I see our old friends and i'm alone
No End In Sight - Katrina Elam
There's a melody in my head
And I ain't stopped hummin' it since I saw your face
There's a feeling I can't forget
T started with you kissing me that way
And there's no end in sight
Happy Ending - Mika
This is the way you left me,
I'm not pretending.
No hope, no love, no glory,
No Happy Ending.
This is the way that we love,
Like it's forever.
Then live the rest of our life,
But not together.
Since You've Been Around - Rosie Thomas
I'm heavy
I'm weary
Not thinking clearly
I just can't seem to find solid ground
Since you've been around
Rule The World - Take That
*This song just seems so perfect to me, it's one of my favourites by Take That and when I listened to it the other day while making this I remembered the Edward's quote, comparing Bella to a meteorite and stuff.
If walls break down, I will comfort you
If angels cry, oh I'll be there for you
You've saved my soul
Don't leave me now, don't leave me now
I Have Nothing - Russell Watson
You see through, right to the heart of me
You break down my walls with the strength of you love
I never knew love like I've known it with you
Will a memory survive, one I can hold to
Cry For You - September
*Another New Moon song, but I really love this song and this fanmix is for all three books (made before I got BD so that's not included)
You never heard me break your heart
You didn't wake up when we died
Since I was lonely from the start
I think the end is mine to write
Fallen - Sarah McLachlan
Heaven bent to take my hand
And lead me through the fire
Be the long awaited answer
To a long and painful fight
World On Fire - Sarah McLachlan
Hearts break, hearts mend
Love still hurts
Visions clash, planes crash
Still there's talk of
Saving souls, still the cold
Is closing in on us
Unbreakable - Westlife
This love is unbreakable
It's unmistakable
And each time I look in your eyes
I know why
This love is untouchable
A feeling my heart just can't deny
Each time I look in your eyes, oh baby
I know why
This love is unbreakable
Every Little Thing You Do - Westlife
It's every little thing you do
That makes me fall in love with you
There isn't a way that I can show you
Ever since I've come to know you
It's every little thing you say
That makes me wanna feel this WAY
There's not a thing that I can point to
'Cause it's every little thing you do
You Are Loved (Don't Give Up) - Josh Groban
Don't give up
It's just the hurt that you hide
When you're lost inside
I...I will be there to find you
Alone - Heart
Till now I always got by on my own
I never really cared until I met you
And now it chills me to the bone
Morningside - Sarah Bareilles
I'm not scared of you now
Or so i say
There's no reason to run
Although i may
Breathless - Shayne Ward
You leave me breathless
You're everything good in my life
You leave me breathless
I still can't believe that you're mine




DOWNLOAD THE FULL THING HERE